"Every birthday is special especially the first."
Your Cake Smash Session…
Your newborn is now 1 and its there first birthday or maybe its another milestone Birthday! Cake Smash sessions are now the new trend in capturing those special milestones. The are so much fun with lots of laughter and giggles and are very messy, not something you really want to create in your own home by choice.
I break down the session into three parts, simple portraits in a smart party outfit then we get down to the real messy part with the fun of smashing the birthday cake or any food you wish i.e donuts or cookies, followed by clean up time with a soak in a tub to get rid of all the cake.
I suggest to book in within 2- 3 weeks notice to allow time to order your cake and prepare your decorations and colour scheme or theme. Most props are provided but feel free to bring decorations to add to your session. *Cake is provided unless you wish to bring your own personalised and have dietary requirements.
The non refundable session fee of £50 is required upon booking in. The session fee does not include any images or products, this covers the shoot itself inc all props and the post processing and editing of your images.
Once your session is confirmed i will send over pre-session info and i'm happy to talk through any questions or requests before the session.
After your session i professionally re-touch your images to the highest standard. You will the receive your gallery of your images via email where you have the time to view them in your own time and show your family and friends. Once you are happy you will be able to choose one of my collection packages. You can choose to have just prints or the entire gallery on USB or if you wish why not add a professionally printed piece of wall art for your home.
£100
– Designed for 8 (5″ x 5″) prints
– Frame Size 22″ x 22″
-Acrylic safety glass
-Hanging Fixings
see below for example layout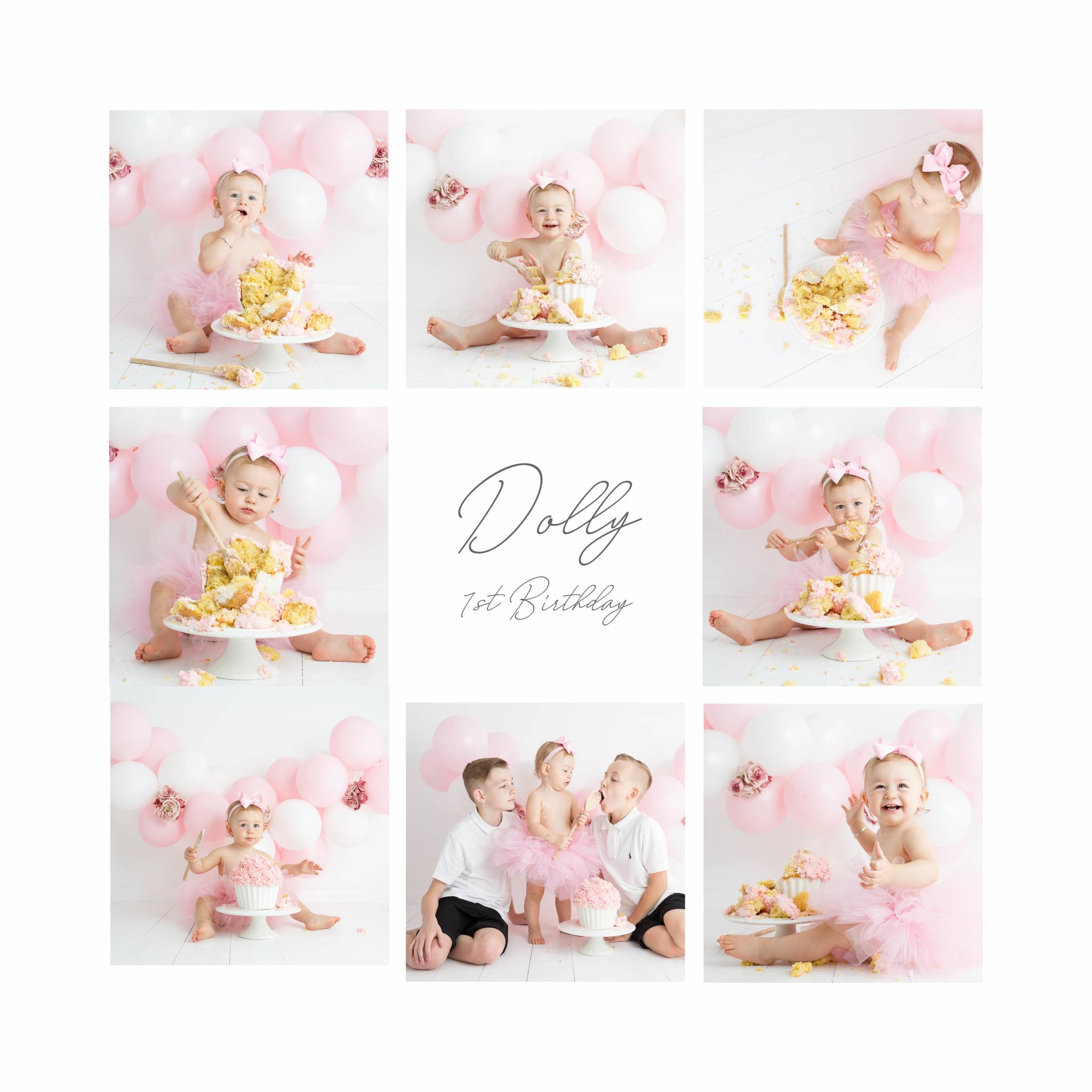 "We booked Jemma to do a cake smash to celebrate our little one's first birthday and i'm so glad we did!!! Our son wasn't feeling 100% on the day but she immediately put us all at ease and managed to get him interacting and laughing so we could capture him at his best! The images are truly stunning and she took such a variety, it was more than what we could have hoped for. I would recommend Jemma a million times over and we look forward to using her again in the future.."
Celebrate BIG for your 30th, 40th, 50th…